With a school corporation of approximately 700 employees, there is no doubt of the many outstanding staff that go above and beyond every day. They are the ones that always smile, the ones that lend a hand without question, the ones that inspire others, the ones you "go-to", they are the unsung heroes. We will recognize one of these amazing people and the value they bring to School City of Mishawaka each week. We thank all employees for what they do every day, their dedication to the school corporation, their buildings, their colleagues, and especially the students. We say #JobWellDone.

"We were created for meaningful work, and one of life's greatest pleasures is the satisfaction of a job well done."
John C. Maxwell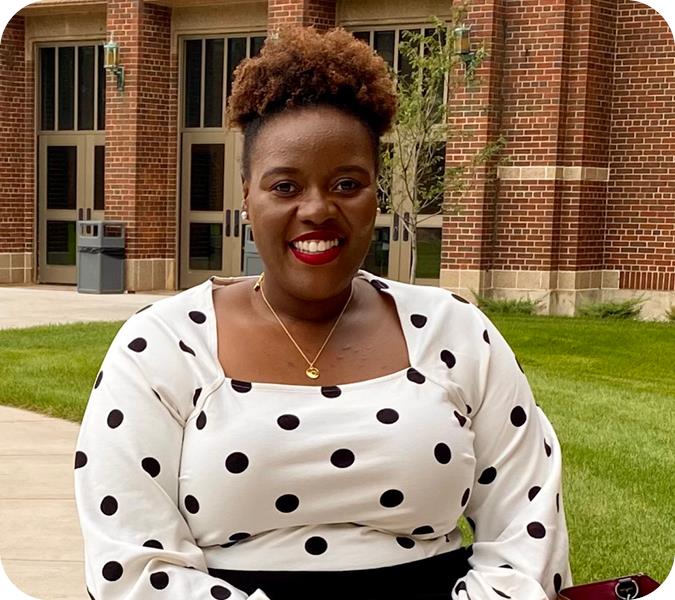 Phone:
Email:
Degrees and Certifications:
Clara Bepe

Economics and Ethnic Studies Teacher & Beyond the Cave Director
Mishawaka High School
September 14, 2022

ABOUT CLARA
Ms. Bepe is a third generation teacher. Both of her parents were teachers for the first 10 years of her life. She taught 7th and 8th grade Social Studies at Brown Intermediate for the first three years of her career. While at Brown Intermediate, she started a girls after school mentoring program that reduced suspension rates by 60% for girls enrolled in the program. Clara shared, "I became a teacher to help mold adolescent minds and prepare them for adulthood."
Bachelors in Education, IUSB

Masters in Public Affairs, IUSB

In final semester of MBA program,

Bethel University

Teaching Economics and Ethnic Studies at Mishawaka High School since 2018

Became Beyond the Cave Director last Fall


FUN FACTS ABOUT CLARA

Loves to spend time with family and friends
Oldest of 3 siblings
Her mom, Wadzie Bepe, is a Resource Teacher at Battell
Her sister, Carol Bepe, is a Program Assistant at the Administration Center
Enjoys traveling - favorite place visited is Stockholm, Sweden
Likes to go shopping in her free time


TWO OF CLARA'S STUDENTS SHARED:
"Throughout my years at MHS, I've noticed that Ms. Bepe makes an effort to get to know each and every student. She's a great person to talk to, and will carve time out of her busy schedule for anyone. I'm so thankful to have Ms. Bepe as not just a teacher, but as a mentor. She is truly influential at MHS, and I hope to become just like that one day."
"Ms.Bepe, someone who has countless amazing qualities to her name. She is a kind-hearted, inspirational, incredibly smart, ambitious, and compassionate person. Above all, I think the most admirable trait she has is her ability to reach everyone that she interacts with. She makes it her job to get to know everyone that she can. She is someone that knows how to interact with any type of person she comes across. Ms. Bepe knows how to not only help others, but also herself reach the desired goals that are set and will get through any challenges that may arise. She is one of the most influential and inspiring people I have met during my four years at MHS. If you have not yet had a chance to meet her, I very strongly suggest doing so, you will not be disappointed."
Congratulations Clara on a #JobWellDone!